Originally seen on Pinterest, this adorable DIY Wreath made from ribbons would be a spectacular alternative or offbeat wedding decoration idea. I think it could also be a cute alternative for a flower girl to hold (instead of a basket of flowers or a kissing ball).
DIY Ribbon Wreath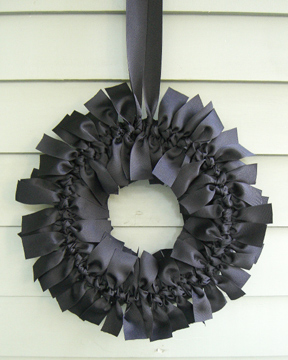 The handmade craft blog, The Long Thread, shares this easy tutorial on how to make the ribbon wreath you see above!
Supplies:
12″ foam wreath form
24 yards 1 1/4″ black grosgrain ribbon (or less if using a wider ribbon)
Scissors
Measuring tape
Steps:
Cut 45-50 16″ pieces of ribbon.
Tie one strand of ribbon in a knot around the wreath.  I used a "messy knot" — right over left, then right over left again, pulling in the opposite direction.  It doesn't really matter how you do it as long as you are consistent all the way around.  Repeat with the knots, pushing them close together, until you fill the wreath.
Cut one long piece of ribbon (48″) and tie one end to form a knot.  Leave a long loop for hanging and tie another knot onto the wreath.
Trim any frayed or long ends.
For more fun craft ideas, be sure to head on over to The Long Thread!!