This is Chapter 3 of an ongoing series following the journey of a couple throwing an intimate, DIY wedding in Washington, DC. Check out Chapter 1 here and Chapter 2 here.

After we cut our guest lists and planned a budget (only $5000) we were off in search of a venue!!! Since Claude proposed at the national mall, our first instinct of course was to have the ceremony there.  We found out from the park service that you can only get married 3 places on the national mall.
1. The World War I monument (also known as the DC war memorial, this is a small and somewhat run down dome on the south side of the mall)  It is quite hidden behind bushes and no one knows of it.  It is cute and intimate though, but difficult to walk to and we had several older people on our list, so this was vetoed (although we spent a lovely day and picnic there to check it out).  I also believe it might currently be under renovations?
2. Iwojima Memorial (also known as the marine corp war memorial). This was simply not the "feel" we were going for and so o this was out.
3.  The Jefferson Memorial.  Wow.  Scale, grandeur, water, trees, the outdoors and the "infamy" of being able to say that you got married at the Jefferson memorial.  How impressive!  Who could ask fo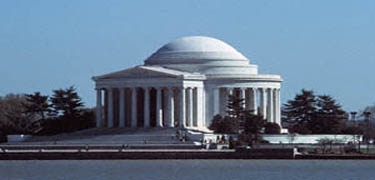 r anything else? Although you can not get married INSIDE or on the actual marble part of the memorial, they give you a nice spot on the west lawn to have your nuptials.  We looked at pictures and most show  glorious and picturesque shots of the memorial and tidal basin during the cherry blossom blooms.  SOLD!  Even though there are millions of visitors during the festival weeks, we could not resist the temptation to have pink fluffy blooms floating in the air and whirling around us as we take our vows.  Now, the festival takes place on the average bloom times, but there is no guarantee that mother nature will cooperate.  Some years the flowers have fallen off the trees long before the end of march and the latest it has ever been is April 16! http://www.nationalcherryblossomfestival.org/
You must obtain a permit from National Park services to get married here.  I have heard stories of park police prohibiting a bride from walking down the aisle because the permit was not on her.
The cost is $50 money order and you will not know if you get approved until after you send in your money and application.  This part is a bit nerve racking, but if you call, the people are very nice and helpful.  You are allowed to take pictures around the ceremony site without an extra photography permit, but if you would like to go anywhere else on the mall grounds for photo opportunities, you must apply for an additional photography permit for an extra $50.
I have also heard that the Arlington Cemetery allows some marriages up on the hill there, but it is a different governing agency that takes care of that.
Onto reception venues.  First, we wanted just a restaurant.  We saw a million.  I wouldn't recommend America in Union Station (it is a nice venue, but they lied to us because our party was too small).  Sequoia, Mandarin Hotel, Mt Vernon restaurant, and Cava Mezze (no contract) were all options but we ended up in Old Town, Alexandria because we thought it would be less crowded and easier for parking.  Also one thing that we really liked about it was the fact that the venue has WINDOWS!!!  We hated the idea of walking into a beautiful day-lit restaurant only to be escorted to the dungeonous banquet hall.  YUCK.
We picked…. drumroll…. the CHART HOUSE.  They are super accommodating, great food and lovely decor overlooking the Potomac.  Beautiful!
Now the dilemma of how to get from place to place? There will be no parking for guests at the Jefferson so we will shuttle everyone there and back to the Chart House (which has easy parking around it).  Northern Virginia Executive Limo Services will be providing us a mini bus for all and we are able to bring our own food and drinks on the bus, so this will actually help us save some money by nixing some of the appetizers at the restaurant.
Check in next time for more on these snacks!