We are back with Part 2 of the Capitol Romance Ultimate Winter Wedding Inspiration Guide [here Part 1 of the Winter Winter Inspiration Guide ~ Style ]!
Capitol Romance's Ultimate Winter Wedding Inspiration Guide ~ Part 2
On Tuesday, we focused on style for your winter wedding, color palettes and attire. For Part 2, we are going to focus on design – centerpieces, favors, and all those extra's that help make your wedding extra special and 100% you!
Winter Wedding Design
Overall Design: For the overall design of a winter wedding I think you should focus on the weather that makes people think of the season! Snowflakes, pine cones, glitter, and more should be included in a true winter wedding [by true, I mean one that wants to embrace the time of year in the wedding design]. Though most might not want to focus on a certain holiday, things like snow and rustic elements, ie. branches, are a perfect elements to include in a winter wedding.
[via Teacup Wedding]
[via Terra Dawn Photography]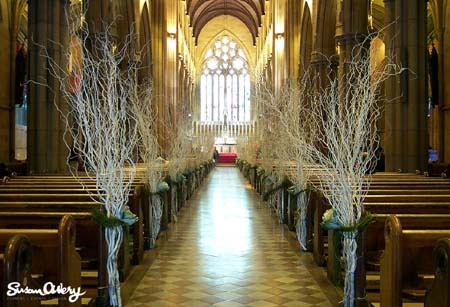 [via Intimate Weddings]
[via Martha Stewart]
Centerpieces: A winter wedding [in the Northeast anyway!] allows you to really buck the flower tradition – since you'd have to go outside the local area to get flowers for that time of year. So, I say – go the flowerless route, and use flowerless options for your centerpieces. Think, wine bottles, Christmas ornaments, wreaths, candles and more!
[easy DIY wine bottle centerpieces are perfect for a winter wedding centerpiece, plus the tutorial is here on Cleverly Inspired]
[Mike & Megan went rustic for their Winter Wedding, including mismatched winter centerpieces!]
For more winter wedding centerpieces, check out Pizzazzerie's Top 5 Winter Wedding Centerpieces post and for more DIY winter wedding decor ideas, check this amazing shoot over on Teacup Wedding.
Customized Drinks: Another fun way to incorporate the colder weather of a winter wedding is with a customized drink. Our favorite DIY bride & wedding photographer, Abby Grace, shared her DIY Hot Chocolate Bar here a few months ago. It is too good not to share again.
[Abby's DIY Hot Chocolate Bar via Terra Dawn Photography]
Candy Cane Mocha Cocktails? Uh yes please.
[via Bayside Bride]
Bouquets:Bouquets for winter weddings can be fun, because you really have some room to be creative. If you opt for the floral bouquet – be on the lookout for some beautiful red flowers [like we mentioned in Part 1, vintagey red is a great winter wedding color]. Or if not the red, add some pine cones to your bouquet OR go flowerless and use Christmas ornaments or paper flowers!
[via You Did It Didn't You]
[via Blink Photography]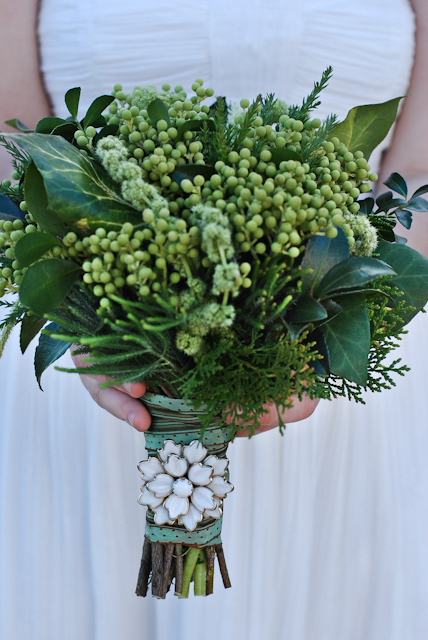 [via The Full Bouquet Blog]
[via Live It Out Photo]
Favors: If you don't want to serve hot chocolate at your wedding – hot chocolate would make for a great winter wedding favor.  And if hot chocolate isn't your thing – another warm beverage [coffee] would make for a great favor too! More winter wedding favors below. For a bunch more DIY Winter Wedding favors, hop over here to Bowties & Bliss.

[via Ruffled blog]
[via Miss Alyssa's blog]
[via Live It Out Photo]
Real Winter Weddings: In case you still want more, I figured linking to some full features of real winter weddings would be helpful too! Otherwise, I hope you found Part 2, Design of the Capitol Romance Ultimate Guide to Winter Wedding Inspiration a help!
Allison & Jon's Frosty wedding … over on Frosty Weddings
Megan & Mike's Rustic, Winter wedding at Wolftrap
Amanda & Jeff's Alexandria, VA Winter Wedding
Abby & Matt's Classy DIY Winter Wedding
Matt & Melissa's Snowy Winter Wedding … over on Landlocked Bride
Got a favorite real winter wedding or winter wedding element to share!? Send it our way and we would love to add it to the guide :)