We are back at it again with our second round of advice for all those couples out there that are thinking about having a DIY wedding.
Last DIY Wednesday we opened with our first big piece of advice, that DIY weddings require a lot of TIME. We mentioned that you need to decide whether it might be better just to hire a pro/vendor [get help deciding by using this handy DIY decision flowchart that one of our readers shared!] or perhaps you might need to do a little of #2. Prioritize.
[via troll.me]
You need to prioritize both the things you are doing in your life AND all the items that you plan on making for your wedding.
If you don't think you have the time to make things for your wedding – think again. Think about the time you spend on Facebook or Twitter – the time you spend watching reality TV or any TV for that matter. All that time you spend on social media or in front of the boob tube could be time spent working on DIY wedding projects instead!
My advice to you here is to maybe start out by making just one night a week your "wedding projects night" and be certain to start at least 6 months out from the wedding so that you don't feel stressed or rushed. Leaving that much time also allows you to decide if maybe a vendor might be the better option for a project you originally thought could be DIY.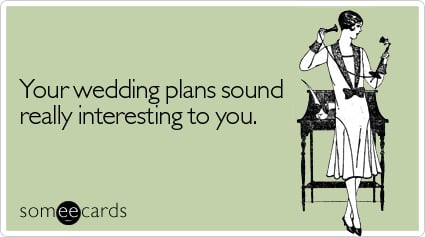 [i kid! i kid! credit: someecards]
The second thing you should prioritize are the projects you plan on making. List them all out and really think about the ones that are the most important to you – or the ones that you know you can accomplish.
[credit: Sweet Cuppin Cakes Bakery]
For instance – I had originally planned to make the cupcakes for my wedding – my mom told me I was nuts, but I didn't believe her. I knew I wanted funfetti (yes, pillsbury, from the box, see above) cupcakes and I didn't want to pay $3 a cupcake, for something that costs $3 for an entire box.
But, a few months out I started realizing that maybe I wouldn't have all that much time two days before my wedding to make 150 cupcakes … and I, rather last minute, outsourced the cupcakes to a vendor. In retrospect, I should have better prioritized the cupcakes and realized earlier on in the process that that was something I shouldn't have DIYed.
Bottom line:
1. Make a list of all the proposed DIY projects you plan on making
2. Evaluate your proposed list of DIY projects and take a hard look
3. Use the handy DIY project flow-chart from 100 Layer Cake to help with your decisions

4. Set your priorities and decide early on whether some thing might be better left to the pros!
Did anyone else miss out on setting priorities earlier in their DIY wedding planning process? Or perhaps you have some other ideas on how to better set life priorities to meet your DIY projects goals!