I am thinking of starting a new recurring post on Capitol Romance called "Capitol Nontradition", wherein I take some traditional wedding element, discuss it, give my opinion on it, and then share some other weddings and couples that bucked the tradition as well.
I am claiming to be "DC's creative cure to its traditional wedding bore" after all …
Today's first "Capitol Nontradition" post ~ An Uneven Wedding Party
[via Live It Out Photo]
A couple days ago I did my best to Google the history behind the even numbers in a wedding party tradition. Other than some fairly corny wedding etiquette sites that look like they were created in 1990, I couldn't find anything that really explained where this notion came from … that you and your partner had to magically have the same number of close friends/family to be on your respective sides of the wedding party.
I couldn't fathom not asking one of my best friends to be in our wedding party, just to keep the number of bridesmaids and groomsmen even. I also couldn't hold back my look of shock when a good friend told me that her friend had asked a cousin to be a "back-up" bridesmaid in her wedding in case one of her fiance's groomsmen dropped out …
Some people are concerned with how it looks when you walk down the aisle without even numbers. Again – no one wrote a rule that you have to walk down the aisle in boy-girl pairs. My brother walked both my sisters down the aisle ~ and it looked fabulous.
Some people are also concerned about how the wedding party picture will look – my advice to you on that is to scratch the prom-style portrait and get a little bit unique or creative with your wedding party pose.
Need more help being convinced that your wedding party selection shouldn't be a numbers game? Check out the following wedding parties that went uneven and survived …
this might be my favoritest uneven wedding party picture. ever.
[via Green Wedding Shoes]
[via Danielle Cover Photography]
Prom-style with uneven numbers and it still looks good!
[via Sweet Tea Photography]
There's more than the just the number of wedding party members that is mismatched as this wedding ~ and it still looks phenomenal!
[via Bridal Buds]
This "uneven" wedding party also features some groomsgirls – totally awesome!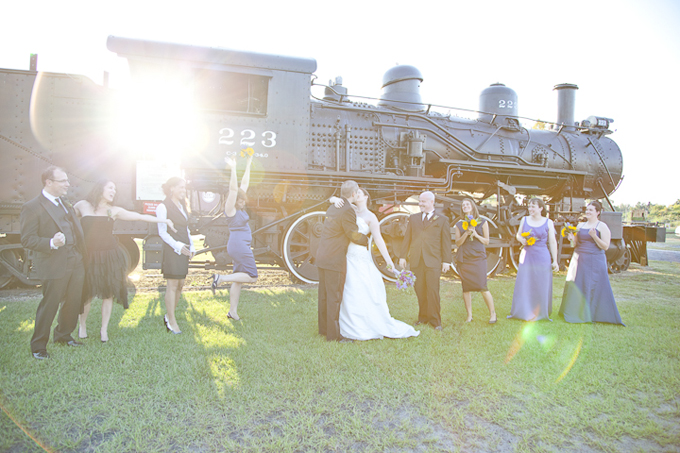 [via Glamour & Grace blog]
Now THIS is an alternative wedding party picture !
[via The Loveliest Day blog]
[via Ruffled Blog]
[via the Bride's Cafe]
Uneven numbers ain't got nothin' on this TOTALLY uneven wedding party!
[via The Loveliest Day]
Quite possibly the best. unique. wedding party picture. ever.
[via Bridal Musings]