This morning we have an exciting announcement. The amazing creative genius that crafted the beautiful hairpiece for our bride in the Harry Potter Wedding Inspiration styled shoot has allowed us to giveaway the hairpiece she hand-made for the shoot [a $115 value]!!!
Christina Devers is the mastermind behind the amazing floral bridal hairpiece you see above. Her company, Zazzaretti Bridal makes bouquets, bridal sashes, and more. You MUST check out her shop .. you will not be sorry.
The hairpiece above was made using:
~ hand pressed silk dupioni petals and leaves
~ golden Swarovski crystal stamens burst from the center
~ curly tendrils (formed with gold artistic wire) hammered for strength
~ approx. 4″ diameter
~ backed with a double prong hair clip
As mentioned above, this "Purple Palette Enchanted Peony Hair Fascinator" retails at $115, and if you aren't lucky enough to win the one we are giving away, then you can buy your own here.
How to enter:
Simple, leave a comment on this blog post, to enter. And as with all of our giveaways, becoming a Fan of Capitol Romance on Facebook will also get your name in a second time!
The contest will end on 11.11.11 [the DVD release for Harry Potter & the Deathly Hallows Part 2 … yes I know, I am awesome for picking this date].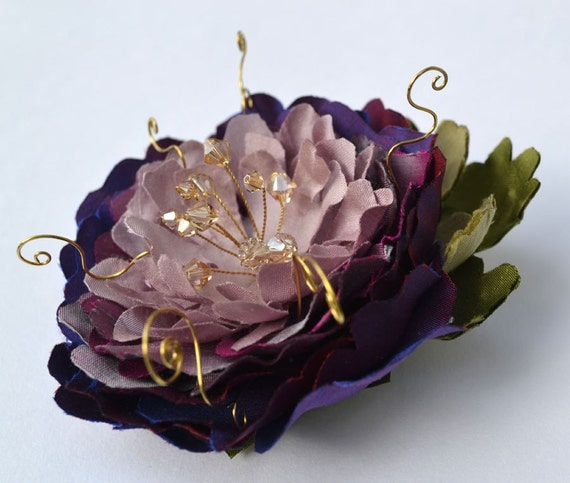 GOOD LUCK! and thanks again to Christina of Zazzaretti Bridal for not only donating this amazing fascinator to our shoot, but for allowing us to do a giveaway with it here on Capitol Romance!